Patience – January Devotion!
Written By: Leah Smith
Patience: The capacity to accept or tolerate delay, trouble, or suffering without getting angry or upset.
When most people think of patience, we think of waiting. Waiting for Christmas or birthdays, waiting for food to be done cooking, waiting for our turn at an activity, or waiting until we are old enough to do something we want to do. But I want to venture that there is a bit more to "patience" than just waiting. Take note of the other words in the definition: trouble, and suffering. It brings to mind words from Romans 12, that we should be
"Joyful in hope, patient in affliction, faithful in prayer."
To be patient, in part, means that we are able to endure suffering, even prolonged suffering, but at the same time possessing hope and joy.
Have you seen a young child learning patience? (Or perhaps yourself! Ha!) At first, it's pretty easy. They sit quietly; they play, or perhaps find an activity to do or a game to play. But as time passes, and the longer they are forced to wait, the more agitated they become. Whining sets in; furrowed eyebrows, pouting face, stomping feet, possibly a word or two of complaint. If left for too long, the child might even throw a tantrum.  We like to think that's a childish thing, but I know for myself, I have my own grown-up way of being impatient and throwing tantrums. Maybe a snide remark, or an impatient word to someone, or I make a selfish choice or two in place of what I really want. But what about patience? I am being forced to wait, but is that actually patience?
The second half of the definition answers that question with an unfortunate and clear NO. True patience requires that we not only wait and bear through suffering and trouble, but that we accept it without getting angry or upset. Think on that for a moment. When was the last time you accepted waiting, suffering, trial, etc., without getting upset about it at all? I know for me this does not happen as often as I'd like to claim. One of my favorite bible verses directly addresses the subject of trials. James 1:2-4 says:
"Consider it pure joy, my brothers and sisters, whenever you experience various trials, because you know that the testing of your faith produces endurance. And let endurance have its full effect, so that you may be mature and complete, lacking nothing."
I find that if I know the reason that I am waiting, patience comes a little easier. True patience. If I know that it isn't for nothing, that though I am waiting in the moment, though I am experiencing trials and suffering, it's all going toward something. If we look deeper into this verse, I think we will see that practicing patience is valuable, and suffering does go toward something.
To accept suffering without getting upset about it is tough, but look at what those trials can produce: endurance.  And what is endurance? Why would we want it? Endurance is the ability to handle difficulty without giving up, the ability to hold on through and even past the point where many would quit and give up. Why would we want endurance? Where does that help us in life? How about EVERYWHERE!
This verse specifically talks about our faith and walk with Christ, but think how this can translate into other areas.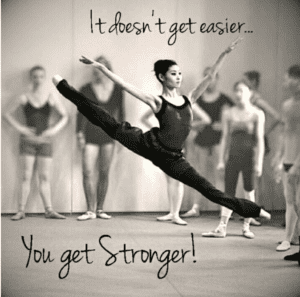 How about in, say, dance? If we work hard in dance, our endurance is increased: our physical endurance, our mental endurance, etc. Our muscles get stronger as we work harder, our flexibility is increased with stretching, our mental capacity is increased when we learn and remember more and more choreography. If we give up at the first sign of difficulty, we will not build that endurance. Muscles are built by repairing the muscle fibers, but if those muscle fibers aren't pushed, they won't need rest and repair. Flexibility is increased by stretching and fatiguing the muscles, but that doesn't happen if we don't do the stretch and hold it there. Mental capacity and the ability to remember dances is increased by coming to classes and rehearsals, learning to remember more quicker. It's tiring, it's uncomfortable, but it's necessary. Endurance is built on temporary discomfort and suffering, and patience is the ability and capacity we have to withstand that time of discomfort without complaining.
Going through trials and difficulties increases our endurance, our capacity
(remember this from the definition of patience?), which in turn makes it easier to accept hardship, which increases our endurance. We begin this cycle of increasing endurance and patience continuously. But how do we start? By going through tough stuff and working hard, without complaining, without getting angry, without getting upset, and without giving up. And it takes TIME.