New Specialty Classes Begin August 9th!
New Speciality Classes from Baby to Ballroom!
Specialty Classes Begin August 9th, our Regular Season Dance Classes Begin August 2nd, click here for those classes.
Dance With Me Babies and Toddlers 3 – 24 months
In Dance and Me classes, babies have time to socialize, work on floor time and tummy time movements that develop the brain and body in safe, fun ways, and learn basic dances, songs, and rhymes that tiny dancers connect with and learn from. Much of these classes are about repetition and care-giver engagement, so come expecting to dance alongside your child! In these classes we have so much fun exploring the ways our bodies can move to music and the development that comes throughout the weeks of class is always exciting to see.
We have four age options for our Dance with me classes. These are important to keep in mind because we develop so quickly as babies that each of the classes and the types of movements offered vary quite a bit depending on age.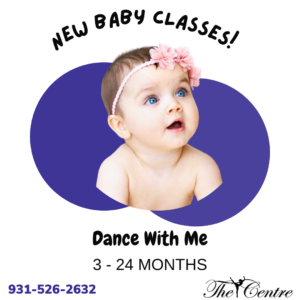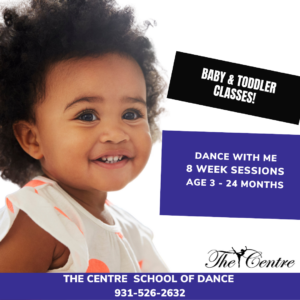 Swing and Ballroom – Kids, Teens and Adults!
Swing and Ballroom is all about learning how to partner dance to many types of music, be it a quick salsa beat, or a slow waltz. Classes and styles will build upon each other, with many types of turns and steps sharing similarities between the different swing and ballroom dance styles. In these classes we will learn chacha, jitterbug, tango, nightclub two step, slasa, and waltz. Add to the fun by signing up with a partner – it's not necessary, but it is encouraged. We're gonna have a blast!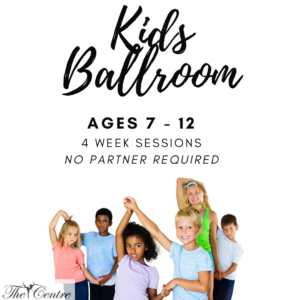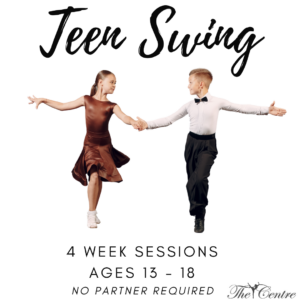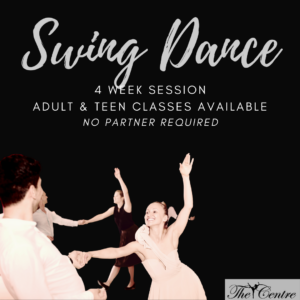 Contemporary –  Ages 9 – Adult!
These Contemporary classes are a mixture of modern, ballet, hip hop, and jazz. Because of this, it has the fun of being more about creativity than rules – having soft, flowy movement right alongside sharp, hard hitting moments. Beth's contemporary classes at The Centre are built on a foundation of Ann Green Gilbert's brain compatible creative movement and on Graham modern technique. From this foundation dancers learn the concepts that make up contemporary dance, apply them to their technique, and not only learn class choreography, but learn to make their own choreography as well. These classes empower dancers and are loads of fun!